As we move into an age where artificial intelligence is less like something from a science fiction novel and more like a viable means to improve business, the time of calculations carried out laboriously using pen and paper is thankfully well and truly gone.
Starting with the introduction of software applications like VisiCalc in 1978 and QuickBooks in 1998, the finance function has gradually moved away from manually calculated spreadsheets to a revolutionised experience of day-to-day bookkeeping.
Not only did this automation speed up the calculation process, but it also lowered the margin for error and improved the efficiency of accounting. More recently, the introduction of cloud computing and SaaS accounting have enabled another step-change in productivity and cost reduction. Most significantly they have given entrepreneurs real-time business information at their fingertips and are changing the role of the accountant from bean counting to that of a business adviser. But what about accounting AI? Hype or reality? Will it transform and disrupt? Will the entrepreneur of a growing technology business feel any benefit?
Accounting AI is already here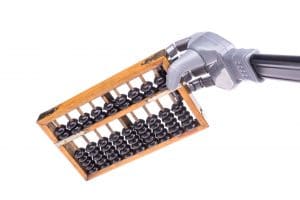 Accounting AI is already out there but is still in its infancy. As a bleeding-edge technology it is rightly being drip fed into the accounting world led by the big accounting and auditing firms who not only have much to gain, but have the financial resources to experiment, and a willing big corporation client base:
KPMG is using IBM's Watson cognitive technology to help advance their ability to analyse, and act on, core financial and operational data within their audit practice
Deloitte are using Kira Systems to simplify the reading of thousands of pages of complex contracts and documents, through the power of machine learning
Repetitive and tedious data entry tasks performed by entry-level accountants are now comfortably within the scope of automation (as well as the pocket of the entrepreneur). For example, accounting application providers such as SMACC (who acquired $3.5m Series A funding in 2016) are beginning to introduce intelligent financial workflows and automated bookkeeping for SMEs. The SMACC application will intelligently prepare your sales invoices and remind you when to send them, read your supplier invoices and remind you when to pay them as well as handling the all the accounting and providing visualisations of key metrics about your business. They are one of the first to leverage artificial intelligence to automate tasks with accounting software.
Likewise, Expensify automates the expense reporting process. Take a photo of your receipt from your phone and Expensify uses OCR technology to automatically read and code the receipt details for you, add it to an expense report and automatically submit, approve and even reimburse. You no longer have to wade through receipts and expense forms.
Cloud accounting providers like FreeAgent (who raised $5m in Debt Finance in 2015), Xero and QuickBooks have grand plans to bring accounting AI into the hands of SME customers.
Human finance and accounting skills will remain crucial to businesses
Although Accounting AI will reduce the amount of routine transactional accounting work, it should not pose a threat to the profession as a whole. What it will offer is a valuable opportunity for accountants to support entrepreneurial businesses in ways that were unimaginable just a few years ago.
Accounting is going to continue to be primarily rules-based and, despite the possible automation of back office transaction processing, accountants will continue to use judgement and take context into consideration in their day-to-day activities. Therefore, human accounting skills will remain crucial to most businesses over the coming years as the emphasis changes from transaction processing to data interpretation. This is particularly so for entrepreneurial businesses who need real-time, relevant information at their fingertips, so they can quickly react to changes in their market.
In the ICAEW's report, Artificial intelligence and the future of accountancy Kristin Gillon commented: "Historically AI development has focussed on trying to replicate reason but machine-learning based on rules, however sophisticated, will ultimately be defeated by greater complexity of the real world."
FinTech will have a considerable influence too
The FinTech industry is promising to transform finance too. Currently, there are many maverick start-ups challenging the large traditional players in this market. With innovative products and services (for example peer-to-peer lending, new banks, cryptocurrencies and payment systems and technology) that are changing the landscape of the industry, accounting professionals need to proactively engage with this new world if they don't want to be left behind.
Entrepreneurs should be demanding 'a la carte' accounting
Much of the accounting industry is still in the dark ages when compared to other industries, but disruption and transformation are now happening. Entrepreneurs now have the ability to build a finance function which meets their exact requirements and helps them grow value.
'A la carte' accounting is already available from outsourced accounting providers, like Isosceles, who deliver a service (people, processes and technology) to each of their clients which are built to reflect how they need to do business. Solutions which can flex and change as the business requires.
Related Article: When should I outsource accounting?
(Image source: Shutterstock)