We were delighted to have the opportunity to sponsor the 2019 tour kit of the U16s rugby team at Shelford Rugby Club (with Ensors, YuTree and the Cambridge Building Society) for their post-GCSE tour of Holland.  They took a squad of 17; although two were sadly forced to spectate after sustaining injuries earlier in the season!
Andy Taylor, our man in Cambridge, is rightly so their very proud Coach.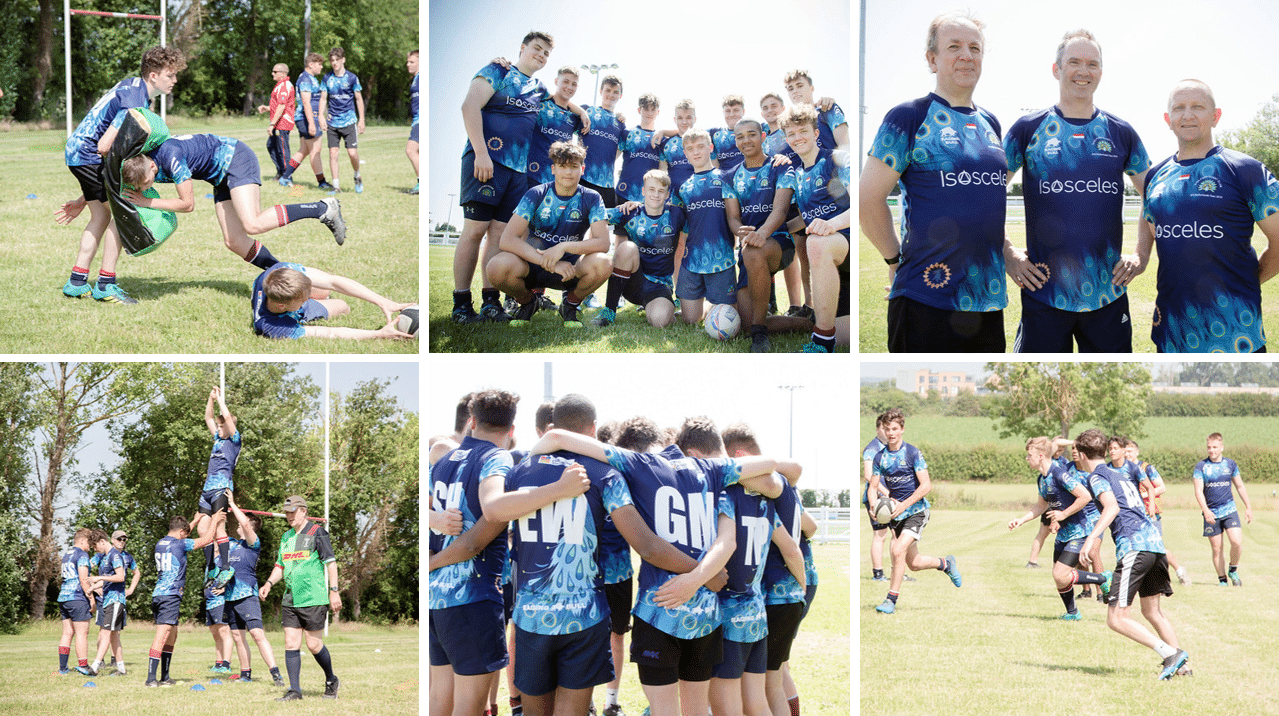 Like all good rugby tours the first activity, after a good night's sleep at their base in Utrecht, was not rugby after all but a much-deserved trip to the activity centre for some fun on the zip wires, the climbing wall and in the zorb footballs.  This was followed by a cooling off in the sea to escape from the mid-day heat.  After a long few weeks revising for GCSEs, it's just what the team needed and deserved.
Day one – RC Hookers
Their first match was later that evening in the marginally cooler evening air against their hosts for the day, RC Hookers in Den Haag.  They secured a convincing 29:0 win.
Rugby, by the way, is not as strong a sport in The Netherlands as it is in the UK. RC Hookers were magnanimous in their defeat, and it was clear they benefited enormously from seeing the high level of play that a youth club rugby team can achieve with support, commitment and training.
The win of the evening was not the rugby after all but the post-match lasagne which disappeared very quickly!
Day two – RC Big Stones
Day two and a morning game at RC Big Stones in North-East Netherlands.  Again, another very friendly welcome and another great performance from the team, this time winning 59:0.  The boys benefitted from the previous day's match and hit the ground running playing some fast, fluid and effective attacking rugby.  The result belies the fact that this opposition was better than RC Hookers, but the scoreline was a result of Shelford playing at probably the highest level rugby their coach has seen from this group.
Back to Utrecht after the match for some free time until dinner; then on to an 'all you can eat' rib restaurant.  Who knew a 17-strong squad of 16-year olds could eat THAT many ribs?  Luckily they had enough – just!
Day three – Amsterdam
After what turned into quite a late night for all, the final day we took the boys to Amsterdam by train where we took a boat trip through the canals.  At this stage, it became obvious that the boy's energy levels were at rock bottom, and there is photographic evidence of many of them falling asleep on the boat.