Estimated Reading Time: 2:00 minutes
---
We are frequently asked, "what does an exit ready business look like?".  
This article introduces the seven key factors which affect value in the eyes of an acquirer and what a business prepared for exit looks like.  It also reveals how you can assess how ready your business is for exit.
---
For some private companies, an exit may not be an immediate priority, but for venture capital or private equity-backed technology companies there almost certainly has to be a plan for an exit in place over a sensible timescale.
In the perfect world, you as a business owner would choose the perfect moment for your exit;
when your sales are growing;
your team is settled;
your data room is full of clean, perfectly organised and prepared documentation;
there is competitive tension from several 'suitors';
and a premium valuation is therefore attainable.
Related Article | Why you need a Data Room NOW!
For most, however, this is not the practical reality.  Quite often, an approach comes because an acquirer has a need when you are not quite ready, or an unexpected event hastens an exit.
We encourage our clients to be prepared for an exit from early-stage.  Everything required to prepare for an exit is also required to run an efficient and profitable business.  Time and money spent preparing for exit is an investment in your future even if that future does not equal an imminent exit.
The first questions shareholders ask before preparing for exit
In our experience, the first question shareholders of technology companies ask when preparing for exit is around business valuation:
"What is the business worth?"
Followed by "How can we improve that valuation?"
And finally, "What do I need to do to prepare my business for sale?"
What does 'ready for exit' look like?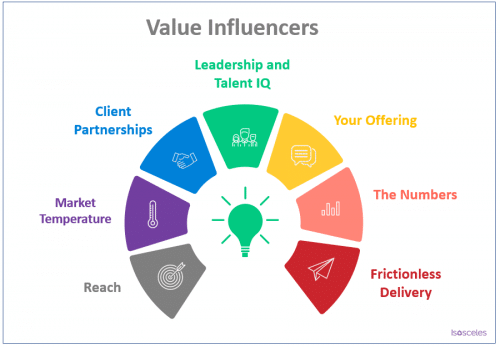 We are frequently asked, "what does an exit ready business look like?"
Experience has shown us seven key factors, which affect value in the eyes of an acquirer, and these seven areas of the business need to be considered in the preparation process.
To help you understand what a business, ready to exit looks like, we've written a white paper where we define what 'good looks like' from the eyes of a prospective acquirer.
White Paper | How ready is your business for an exit?
How can I obtain a business valuation?
To answer all the questions raised in this article, we've built an online tool as the first step.  This questionnaire-based tool, designed specifically for technology companies, will help you assess how ready your business is for exit and what your initial business valuation might be.
To get a personalised view of how your business model readiness ranks against the seven value influencers as well as buyers expectations for your sector all you need to do is complete our online Busienss Valuation tool.