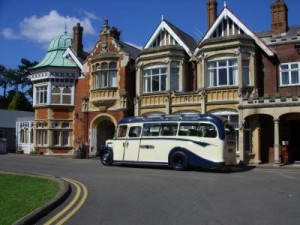 I recently had the pleasure of visiting Isosceles client the National Museum of Computing, which is located within the campus of Bletchley Park – the Bletchley Park of the code breaking fame in the film Enigma.
There I had the pleasure of meeting Kevin Murrell , Stephen Flemming and Tony Sale together with other members of the team who had rebuilt Colossus – the world's first programmable, digital computer. Colossus was designed to decode the highest level German 'Lorenz' codes much more complicated than those created by Enigma machines.
In today's world of miniaturisation Colossus is unimaginable, for a start it's the size of a large room. It is a beast of a machine, it clicks, whirs, flashes and growls like the flight deck of the starship enterprise. The paper tape carrying the code runs around wheels and cogs at 30 miles per hour, like a hamster on drugs on his wheel.
Surely never in Britain's history – if not the world's – has a computer had a more important job. Watching the machine in action it seems to process with a sense of urgency, you can almost hear it whispering to its German counterparts "I'm coming to get you, I'm going to crack you". I'm sure any British member of the armed forces entering the room in the 1944 would have left the room confident that, with this snorting giant on their side, anything was possible.
The tour then took us through the ages of computing. It was fascinating to see the evolution and development of the things we take for granted today, such as the evolution of paper tape with holes to magnetic tape to huge circular storage disks to the small hard drives in today's computers.
There were plenty of chances to reminisce (whatever age one harks from) – for me it was back to the ZX81, the BBC Acorn, early Apple Macs – computers which were the iPad of their day and which are still things of beauty.
I was amazed at how much progress this dedicated group of volunteers had achieved. There is so much to take in that one could fill many hours. It is also clear to see how much potential there is to further develop the museum.
InsightSoftware.com one of our fastest growing clients has been an important sponsor of the museum. It is very satisfying to see the money that they have donated being used so productively, I know InsightSoftware.com is very pleased with the progress
Isosceles is delighted to provide outsourced accounting support to the National Museum of Computing. It is especially appropriate that Isosceles, who have so many cutting edge technology clients, should now be supporting the place at the forefront of computing technology some 60 odd years ago.