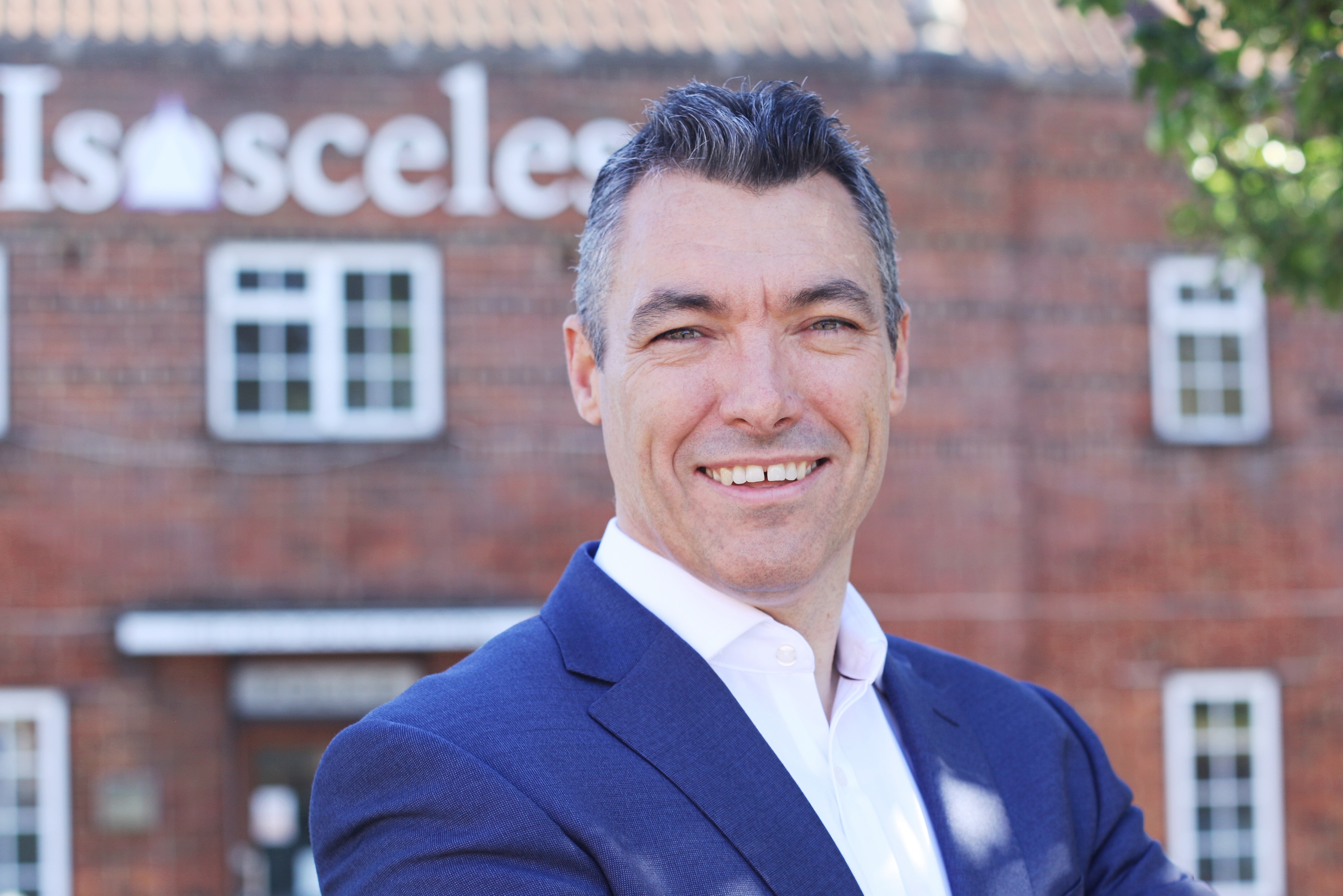 I caught up with Mike O'Connell, CEO of Isosceles Finance, at their recently-acquired head office – a former police station in the small town of Egham, Surrey – to discuss work, life, and Technicolor dream coats.
Mike O'Connell, the man behind Isosceles: who are you?
I'm a business man in accountancy, so although I trained as an accountant, it was simply a means to get into business, which is what I enjoy – working with businesses, working with interesting people that are stimulating and challenging and making a difference.
Where did you come from and how did this lead to Isosceles?
In the very beginning my parents came to the country from Ireland and started with nothing. My father set up and grew his own successful construction company, so business was discussed around the table every evening. In my last year of university I joined Ernst&Young, and became an accountant. By chance really I fell into the hi-tech world, which I found fascinating. It's a fast moving environment – you need the financial picture from today, not a month ago or two months ago, and people who can communicate numbers. When I put all of those things together – a fascination with business, being armed with accounting tools and a love of the technology world they became the essence of Isosceles.
Why did you form Isosceles?
I was working with investors, mostly in tech businesses, and I realised these businesses needed support of varying different levels; they needed FD support some of the time, they needed financial controller support some of the time, but they didn't necessarily need a full time level of any specific resource. There was a need for a service that could support ambitious companies at each stage of their development. Isosceles was founded to support interesting, fast-growing businesses that had varying needs of accounting resource.
Why is Isosceles unique?
We are unique because our people are a bit different; they are good accountants but they also understand business people and their needs. We offer the unusual combination of commercial experience and accounting expertise but from the angle of 'how do I grow my business?'
Why a former police station for your premises?
It's a great location here; we're at the junction of the M3 and M25, the M4 is just up the road with tube and rail links to London. We are approximately 5 minutes from Heathrow – less than 3 miles. It means our international clients can fly in and use us as a facility. It's quirky and interesting- a bit like us.
What do your clients say about you?
We're supportive, we're encouraging, we care about them; we catch the ball that's about to drop. Our people are excellent technically, and we're there for our clients for the long run. We've got many clients now who have been with us for over ten years.
What would your staff say about you?
They say I'm so lucky to be working in an environment like this with a boss like you. You over-pay us, you under-work us, and we are just very grateful every day of our lives….did I say anything about my humility and sense of humour?
Which principle strongly informs your work ethic?
Above all, it's about customer service. We're there to serve and support our customers. I often use the phrase 'we'll go over the trench with our clients'.
Tell us something about yourself we don't know?
I once auditioned for a London musical.
Which one?
Joseph… there's a story behind that.
What does 2014 hold?
It's a very unique year; there has been a big change in the economic environment. Our clients are growing and investing, they are more expansive in their activities, they're thinking broader and wider and are more ambitious which gives us more interesting and challenging opportunities to support our clients. We'll also be further expanding our team and training new staff through the 'Isosceles University' to keep up our high standards. All in all, 2014 will be a very exciting year.
Sylvia Bevan, Marketing Assistant