An opportunity to work with exciting clients Isosceles is an ambitious company working with ambitious technology entrepreneurs and other fast-moving businesses.
From our offices in Egham (near Heathrow), Sheffield and Cambridge, we provide bespoke strategic and operational accounting and finance support to a varied and expanding client base, along with HR and payroll.  While for some we are their full finance team, we also work with clients on merger, acquisition and divestiture execution, on managing and expanding an international presence, on funding growth and achieving a high-value sale. We're certainly not a traditional accountancy practice!
We're looking for ambitious accounting professionals, and the professionals of the future, to join our growing team and develop a career as a trusted advisor and business partner to entrepreneurs, investors and their teams.  We believe that a career in outsourced accounting offers the benefits of working in both practice and industry,  and could be a perfect first step for those ready to move out of practice into an industry based role.
For those who have started their studies, we can accelerate your career and complete your training, exposing you to multi-sector, multi-system and multi-cultural situations that will help you grow as an individual while developing your reputation as a well-rounded senior professional.
For the established finance professional looking for a new challenge, if you're willing to push yourself, your team and Isosceles further, if you can handle a demanding and varied commercial client base and are confident you can help them succeed, you'll love it here.
The only things preventing our employees becoming finance directors of the future are their own aspiration, ambition and skill. If you have those, you could have a great future with us.
Employee Benefits
Competitive salary
Accountancy training contract (if you want one)
Free tea, coffee, cakes and healthy food
Life Assurance
Pension
Enhanced holiday allowance
Interest free season ticket loan
Social events
Cycle to work scheme
Corporate discounts on shopping, holiday and entertainment
What we need from You
As well as being technically very competent and good at your job, you need to be good to work with and vitally support the Isosceles company values.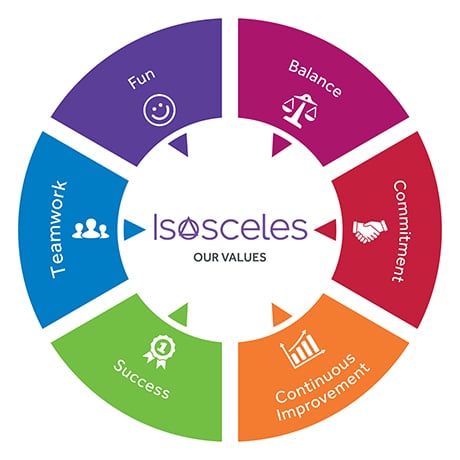 "Working at Isosceles has given me great experience with a friendly and dynamic team, as well as supporting me through my ACA qualification"

Tom, Senior Associate Accountant

"During my time at Isosceles, I've had the opportunity to develop my accounting skills and gain the experience I needed to complete my qualification and progress to Finance Manager."

Natalie, Finance Manager

"My clients are passionate about what they do and it's infectious. Every day presents new and exciting challenges for me and my teams so we're always learning and developing."

Fiona, Financial Controller

"I work with some fantastic companies and some very successful entrepreneurs. I get really involved in their businesses so every day I am doing something new. "

Dave, Finance Director